WDCTA News
Grant Fund in Memory of Jane Savoie Established at The Dressage Foundation

Photo of Jane Savoie courtesy of Rhett Savoie
Source: The Dressage Foundation
The Dressage Foundation (TDF) is honored to announce the new Jane Savoie Fund for Adult Amateurs, established by Jane's family and friends in memory of her lifelong love of horses and career as a trainer, teacher, author, and motivational speaker.
Jane was known around the world for her dedication to dressage, passionate help of amateur riders and developing happy horses. Grants of up to $5,000 will be awarded from the Jane Savoie Fund to adult amateur riders of any age, who are training any breed of horse at 4th Level or Prix St. Georges, and who reflect Jane's ethos of developing each horse to its potential.
These grants are intended to represent Jane's belief that financial help of this magnitude will enable the recipients to achieve knowledge and training that would otherwise be financially out-of-reach.
Beth Baumert, TDF's President and CEO, said, "I don't remember a time when I didn't know and love Jane Savoie. Maybe it's been forever. And that's how long we want Jane to be remembered—forever. Jane gave countless riders permission to be great, and she helped them get wherever they were headed. She helped backyard riders and she helped Olympians—each with the same degree of commitment. Now is the time for us to be committed to Jane. Please give to make the Jane Savoie Fund for Adult Amateurs great so that Jane's influence will go on and on and on."
TDF welcomes donations to the Jane Savoie Fund for Adult Amateurs. Gifts can be made by credit card at www.dressagefoundation.org or by calling Jenny Johnson, TDF's Executive Director, at (402) 434-8585. Donations by check can be mailed to TDF's office at 1314 'O' Street, Suite 305, Lincoln, Nebraska, 68508.
The grant guidelines and application for the Jane Savoie Fund for Adult Amateurs can be found on The Dressage Foundation's website at www.dressagefoundation.org. The application deadline will be April 10th of each year.
Building on the Future May Mean Change
From the October 2021 eQuester Newsletter
The WDCTA State Board is meeting over the next few weeks to discuss transforming the structure of WDCTA. Over the last few years, the state and chapter boards have had a difficult time recruiting members to step up as board members on both the chapter and state levels.
This is not a reflection on our members at all; it's a reflection of society as a whole. According to Philanthrophy News Digest, 80% of non-profits rely on volunteers. The majority of non-profits are struggling to attract volunteers. In fact,.a Stanford University article states, "research has shown while over 90% of us want to volunteer, only one out of four Americans actually do."
The reasons are many, according to the article, but the number one reason stated is lack of time. Nonprofits Source states that overall, the volunteer rate declined by 0.4% to 24.9% in 2016, with women volunteering at higher rates (27.8%) than men (21.8%).When you look around and see women busy with careers, is it any wonder that nonprofits (including ours) are struggling?
Because of this, the WDCTA State Board is looking at centralizing the governance of the organization. This means folding the chapter boards into the state board, which would reduce the number of volunteer positions needed by approximately 16 positions.
The questions and issues the chapter and state boards need to work through include ensuring that:
Educational opportunities such as scholarships, clinics, symposia and local meetings can continue and funding is available, as needed;
Chapters' treasuries/funds built over the years remain accessible for that area's educational needs (with more funds, as needed
Smaller chapters that have had smaller treasuries can still sponsor educational activities;
State board positions aren't over-burdened with the additional work and oversight required when requests for funding special projects are submitted. This is especially a concern for the position of state treasurer, who would be responding to approved requests and continued oversight to make sure we meet state laws and remain good fiduciaries of our funds.
If you have ideas on how we can transform the WDCTA organization to meet our future needs of all the areas we serve in Wisconsin, please contact your chapter president, members-at-large or any state board member. Any changes the state board determines would help the organization will be presented to the membership for their approval. We welcome your ideas and suggestions to create a WDCTA that will work in the future.
Spring WDCTA Events
Spring has arrived as have the vaccination opportunities. Two WDCTA chapters are offering events for our members.
First, April 17 - 18 KM Chapter has an Emily Rose Dressage clinic at Rosebury Farm in Mukwonago
Next, on May 16 SW Chapter is offering a Ride-A-Test at Boemor Farm in Fitchburg.
See the WDCTA Calendar of Events for more information!
Congratulations to WDCTA Member on USDF Accomplishment
At the recent USDF Convention, WDCTA Member Kim Barskaitiki was honored as having won the Education Challenge by earning 235.5 USDF Education Credits during 2020! USDF awards the top winners with a USDF Gift Certificate.
To understand her accomplishment, the second place winner earned 84.5 credits.
2020 Annual Meeting & Awards Presentation
March 6, 2021, 3:30pm CST (1 hour)
Save the Date! Saturday March 6, 3:30 - 4:30pm CST. Due to the ongoing health threat from the COVID-19 pandemic, the Board has agreed to another virtual meeting, similar to the 2019 meeting held this past March.
We realize this is not ideal but we want to keep all our members safe while enjoying getting together. Please join via your computer or smart phone, plan on muting your phone/audio. You do not need to join with video.
The meeting will start with our 2020 Annual Meeting. After the annual meeting we will go into the 2020 Awards presentation.
Website Updates
We have some large website upgrades in process. The website may be periodically offline while changes are made. We'll be trying to work on it in the evenings to minimize interruptions. You can let us know of any issues you have: This email address is being protected from spambots. You need JavaScript enabled to view it.
US Equestrian Announces First Webinar in Series: Planning for a Safe Return to Competition
Source: USEF
Learn how USEF is planning to facilitate a safe return to competition following the COVID-19 suspension. This is a good opportunity for trainers, exhibitors and competition managers to understand how to work together to create the safest possible environment for everyone, as we look ahead to restarting 2020 competitions as early as June 1 with a phased regional approach in line with local and state government restrictions. USEF Guidelines for Competitions will be shared during the webinar. These guidelines have been developed by Dr. Mark Hart, USEF's Team Physician and Chair of the Fédération Équestre Internationale Medical Committee, with input from competition management. Panelists will include USEF CEO Bill Moroney, Dr. Mark Hart, USEF General Counsel Sonja Keating, ESP President Michael Stone, and trainer John Madden.
Key Topics/Agenda:
Overview of Approach to Reopening (Bill Moroney)
Competition Protocols and Recommended Best Practices (Sonja Keating and Bill Moroney)
Health and Safety (Dr. Mark Hart)
A Competition Manager's Perspective – How do you plan to navigate/manage start-up? (Michael Stone)
How will this impact trainers? (John Madden)
To view the recorded webinar, click here
Lynn Palm Establishes Western Dressage Grant Fund at TDF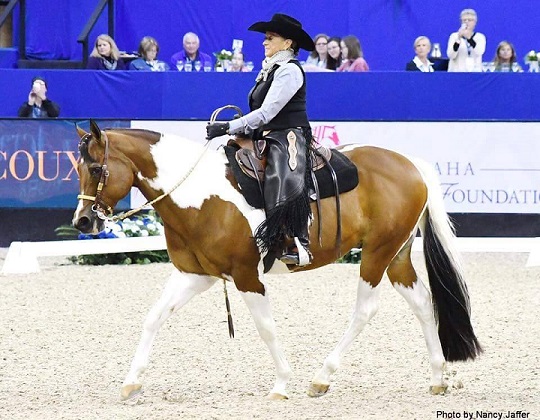 Source: TDF
The Dressage Foundation (TDF) is pleased to announce that Lynn Palm has established a new Grant Fund in celebration of her 50 years as a professional equestrian and to give back to the sport she loves. Lynn believes that the classical training principles of dressage are applicable and beneficial to all levels of riders, breeds of horses and riding disciplines.
USDF

News

Feed not found.